Critical COVID-19 Monitoring
Get real-time monitoring and EARLY detection of critical COVID-19 symptoms for at-risk individuals
Engage patients in their health and deliver the care that they need
Our personalized behavioral analysis service enables you to virtually support your patients with chronic diseases
Relevant indicators and meaningful results
Our studies have shown lasting positive outcomes for seniors and high-risk patients
+

63%
improvement in medication adherence after 60 days
of 200 COPD patients recruited in 10 months, completed the study
average age of participants from thousands of studies conducted
Manage multiple populations with one service
Pulmonary Conditions
Sleep Breathing
Disorders
Senior / Parents Care
Behavior change is possible with intrinsic motivation and continuous communication
We provide tools and support to people and help them to achieve long-term healthy behavior.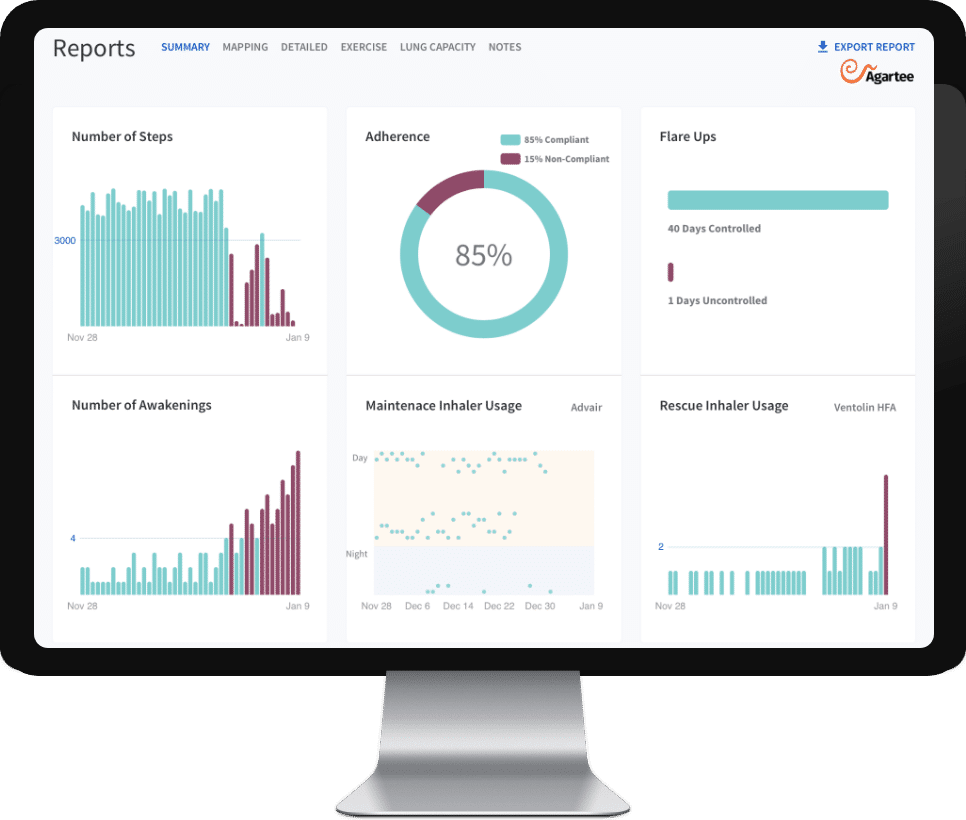 Coaching by accredited care teams

Seamless note-taking and communication

Medication technique training

Personalized reports to improve adherence and implement preventative care
Save cost and improve the quality of care at the same time
We deliver savings through collaborations with care providers and health plans
Return on Investment
Agartee helps participants to stay home much longer than the status quo, save on readmission cost, and free up hospital beds.
INSPIRED program provided 3x ROI and Agartee accelerated the savings.1
Return on Investment
Agartee led to 2x increase in the length of stay at home. 1 in 3 patients with COPD returns to hospitals within 30 days of discharge. However in our studies, participants stayed home for 60 days or longer.2
Reimbursed by Remote Patient Monitoring or Telehealth Codes
Canada (P13016 - 18)
US (CPT 99091, 99457 and 99458)
Flexible Package or Enrollment-based Pricing
Flexible package is available for facilities with more than 50 participants.
For the pre-condition population, you'll pay after your participants enroll in the program.
Your Benefits with Agartee
Seamless automatic data collection
Our smart, cellular-connected devices are already registered with the participant's account and require no set-up or training. They just work out of the box.
No WiFi, Bluetooth or internet-connected phone required.
High digital engagement and continuous communication
Agartee makes it seamless to communicate with your coaches. The information can be seen 24/7 via Agartee care coordination software or Agartee mobile applications.
Easy implementation
We have worked with leading health providers for years and have an in-depth understanding of the process. We provide tools and support the whole process from recruitment to onboarding, note-taking, and reporting.
Highest security
Security is at the heart of our practice. We comply with all security standards such as HIPPA, PIPEDA, and GDPR.
We've heard things like …
Find out how your organization could benefit with Agartee
Ready to grab a drink?
Our team is happy to answer any questions you may have. Fill out the form and we'll be in touch as soon as possible.
1. Spreading 'INSPIRED' Approaches to COPD Care https://www.cfhi-fcass.ca/OurImpact/ImpactStories/ImpactStory/2014/10/16/spreading-inspired-approaches-to-copd-care
2. Reducing COPD Readmission Rates: Using a COPD Care Service During Care Transitions https://www.ncbi.nlm.nih.gov/pmc/articles/PMC6366592/